This post was sponsored by Aveeno®. However, content and opinions are strictly my own.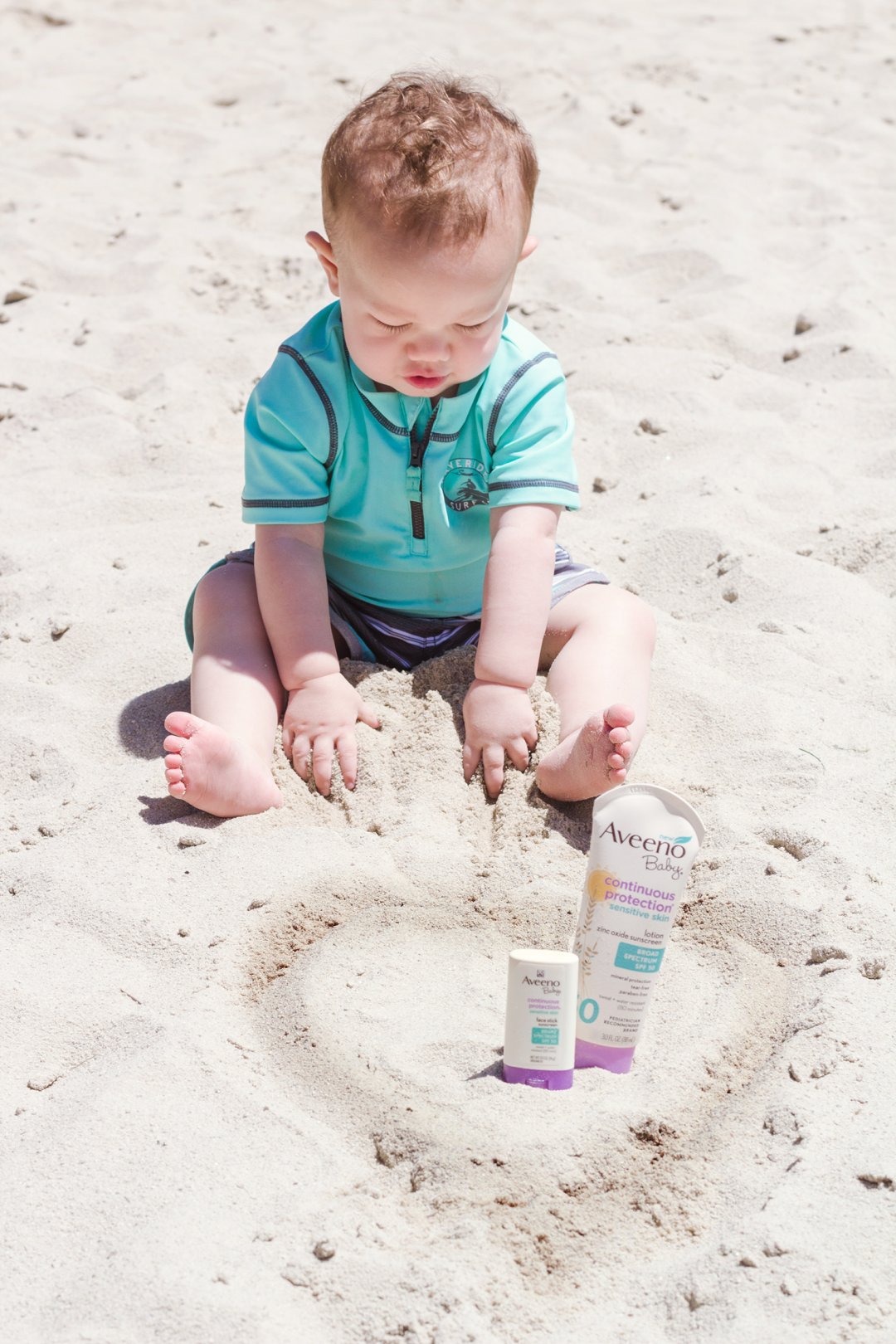 Hover over the photo above to shop Aveeno Baby Continuous Protection products on Walmart.com!
Taking Baby to the Beach and What to Bring
On our recent trip to California we decided Everett was finally old enough to take to the beach. We were staying in the Marriott Newport Coast Villas, so we decided to drive to Corona Del Mar State Beach, which is just a couple of minutes away. I was a little afraid he was just going to sit there and eat the sand, but the outing turned out to be an absolute success! He loved dipping his toes in the water and playing in the sand (luckily, without eating it). We will definitely take him again next time we are visiting. There were a couple of things we brought with us that were really helpful, and a few things we wish we had thought of; so I decided to write a post about what to pack when you are taking baby to the beach.
PACKING LIST FOR A BABY BEACH DAY
#1 Sunscreen—This is definitely one of the most important things to pack so that your baby doesn't get burned and you can enjoy those sweet #TinyMoments at the beach. We love Aveeno® Baby Continuous Protection® Sensitive Skin Zinc Oxide Sunscreen SPF 50, because it is gentle on sensitive baby skin but definitely still does its job. It is perfect for pools, lakes and the beach because we found it to be very water resistant without being greasy. It is also hypoallergenic and free of parabens, phthalates, dyes, fragrances and chemical sunscreen ingredients. I also like to keep the Aveeno® Baby Continuous Protection® Sensitive Skin Face Stick Sunscreen in my purse for quick application whenever he is in the sun, because the stick is extremely convenient and fits easily in my bag.
#2 Extra Towels/Beach Blankets—Whenever we took Everett back up to where we were sitting in the sand, he would quickly insist we bring him back to the water. It is nice to have extra towels for the continuous drying/cleaning of your baby, as well as to sit on.
#3 Beach Umbrella—We wished we had brought a beach umbrella so we could've stayed longer. It gets hot in the sun, and it is nice to keep the sand where you are sitting shaded and cool.
#4 Baby Hat and/or Baby Sunglasses—I think it's a good idea to bring a hat and sunglasses so that it protects the top of baby's head and keeps the sun out of their eyes. Everett wouldn't keep either of these on though, so it just depends on whether or not your baby will wear them. In the past I have used baby hats that tie under the chin and baby sunglasses with straps; both of these were way more successful than the kind he can easily pull off.
#5 Something to Drink—Both for you and for the baby. It's important that you stay hydrated if you will be at the beach for a while.
#6 Snacks in Sealed Containers—Snacks are always a good idea with babies. I recommend containers that will keep the sand out.
#7 Baby Swim Apparel—We brought baby swim trunks, swim diapers, little flip-flops (so the hot sand doesn't burn baby's feet) and a baby rash guard. I also recommend making sure your baby's swimsuit isn't too big. Everett's trunks kept falling down when they got wet, because the weight of the water pulled them down. I wish I would've sized down a little since he is right in between sizes at the moment.
#8 Camera—Last, but not least…a camera! Whether it's your smart phone or a fancy DSLR (or both), it's essential to bring a camera to record all of the #TinyMoments.
I feel like I'm always a little clueless as a first time parent until I experience something for the first time, so I hope these packing tips for taking baby to the beach help you feel more prepared when you take your little one to the beach!