This shop has been compensated by Collective Bias, Inc. and its advertiser. All opinions are mine alone. #ThinkOutsideTheWipe #CollectiveBias
EMBRACE THE MESSINESS OF MOTHERHOOD
HOMEMADE FINGER PAINT SENSORY ACTIVITY
Everett is 19 months old and extremely busy! He loves exploring new places, seeing new things and eating…he loves eating, just like his momma. 😉 He's not really interested in toys at the moment, he gets bored with them very quickly; so I try to come up with fun activities that will keep him entertained and help his growing brain to develop. Before becoming a mother, I promised myself that I would make a point to embrace the messes. I wanted to find ways for my little one to experience the world and get messy, even if it meant having a little clean up afterward. One of his favorite activities is playing with homemade finger paint! He doesn't do very well coloring with crayons and markers yet, so a few months ago I started creating finger paint out of vanilla yogurt to help him develop the concept of colors and using his hands to create designs.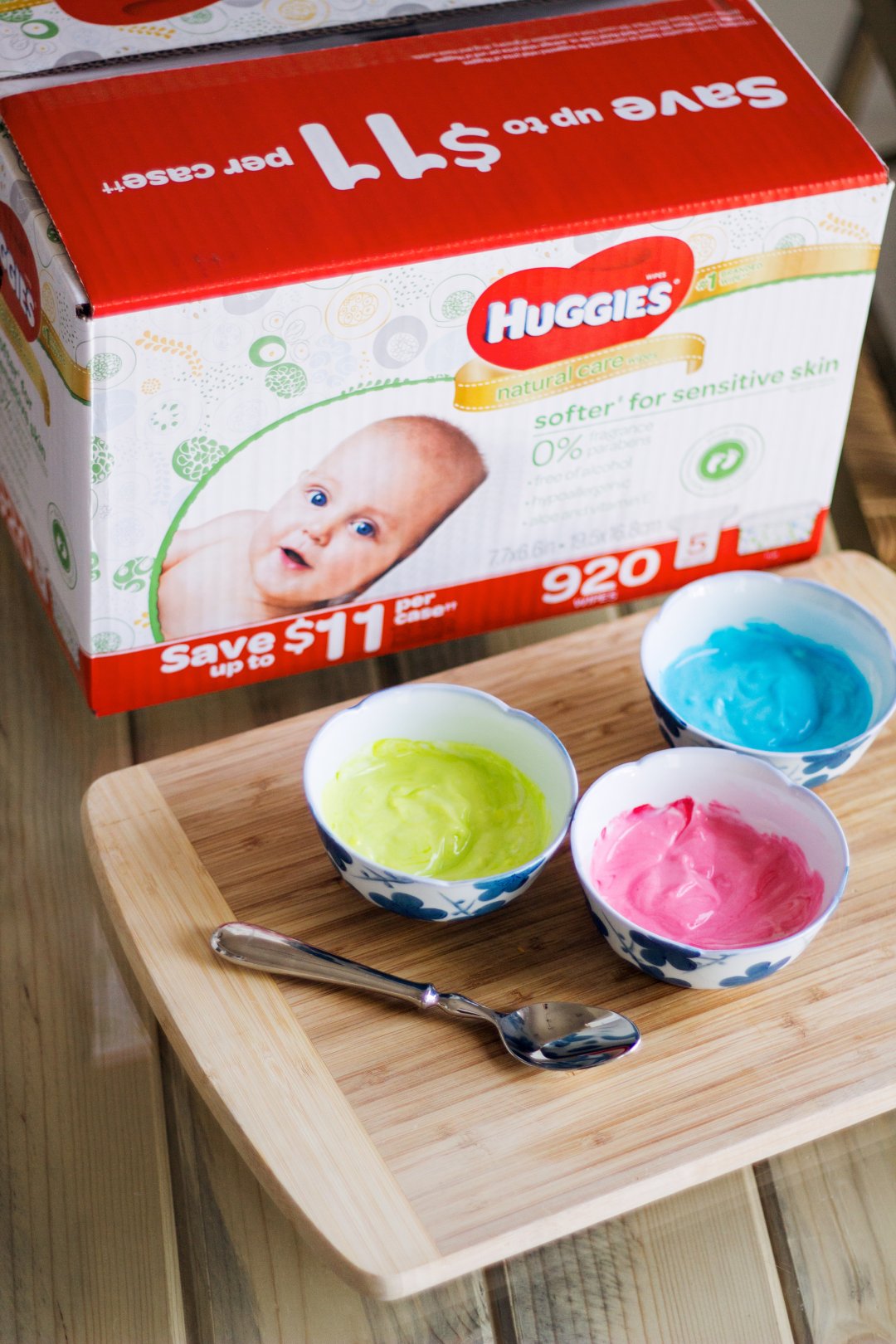 Do you love easy clean ups as much as I do? Hover over photo above and click through to Sams Club to buy my favorite wipes for cleaning up messy activities!
Yogurt Finger Paint Tutorial
1st: I divide his breakfast yogurt into three small bowls, add a few drops of food coloring and stir until the color is incorporated (I use regular liquid food coloring, but you can use edible/washable food coloring).
2nd: I pull his high chair to our kitchen floor where it's easy to wipe spills or I lay down a $1 plastic party tablecloth by the kitchen table to protect the carpet.
3rd: Finally, I strip him down to a diaper (or clothes I don't care about), put him in his high chair, scoop the colored yogurts onto his tray and let him go to town! Homemade finger paint using yogurt/pudding is seriously the easiest and quickest sensory activity setup.
After he's done playing and eating, I've found that Huggies® Natural Care® Wipes work wonders with clean up! I recently picked up a box of them from Sam's Club using the Scan and Go service. Just scan the products on your phone while you are shopping and pay for them on the app! You literally bypass the checkout. It's extremely convenient, especially if you are in a hurry and there is a line.
I like Huggies Natural Care Wipes because they are perfect for wiping off Everett's little hands and face since they are hypoallergenic and free of harsh chemicals. They also kill 99% of germs, which is a must when it comes to food messes! I usually wipe down his face, hands and chest before taking him up to the bath to get anything I missed. After he is all clean, I also tackle the high chair and surrounding areas with Huggies Natural Care Wipes. The yogurt usually wipes right off and it really doesn't take long to clean (well…except for the one time our dog came over to check out what he was doing and Everett flung yogurt finger paint all over the dog's back…that took a little longer to clean, because then the dog needed a bath). I seriously love easy cleaning though, because I don't get intimidated by messy activities anymore. I can just be excited to see him play with the homemade finger paint and let him make a huge, sticky, colorful mess.
Enjoy the messy fun and remember to make your life easier by picking up some Huggies Natural Care wipes next time you are at Sam's Club!